There's so much to experience in a visit to the Oxbow Hotel in downtown Eau Claire, WI – thoughtfully-designed rooms and furniture, locally-curated food and drink, world-class local and national musicians, and so much more. But an equal part of the Oxbow experience is art. Our gallery, rooms, corridors, and walls inside and out are covered in original work from local artists both literary and visual. So art is important to us at the Oxbow. In fact it's so important that we wanted to bring more of it into the community that surrounds us, for both locals and our traveling guests to enjoy. That's what spurred the Oxbow's Artist in Residence Program.
---
CALL FOR MURAL ARTIST: DOWNTOWN EAU CLAIRE FIREHOUSE MURAL, SUMMER 2021
In collaboration with The Oxbow Hotel's Artist in Residence Program, Pablo Group is accepting proposals from experienced local artists to research, design, and paint an engaging, unique, and vibrant mural on an exterior brick wall of The Fire House in downtown Eau Claire this summer!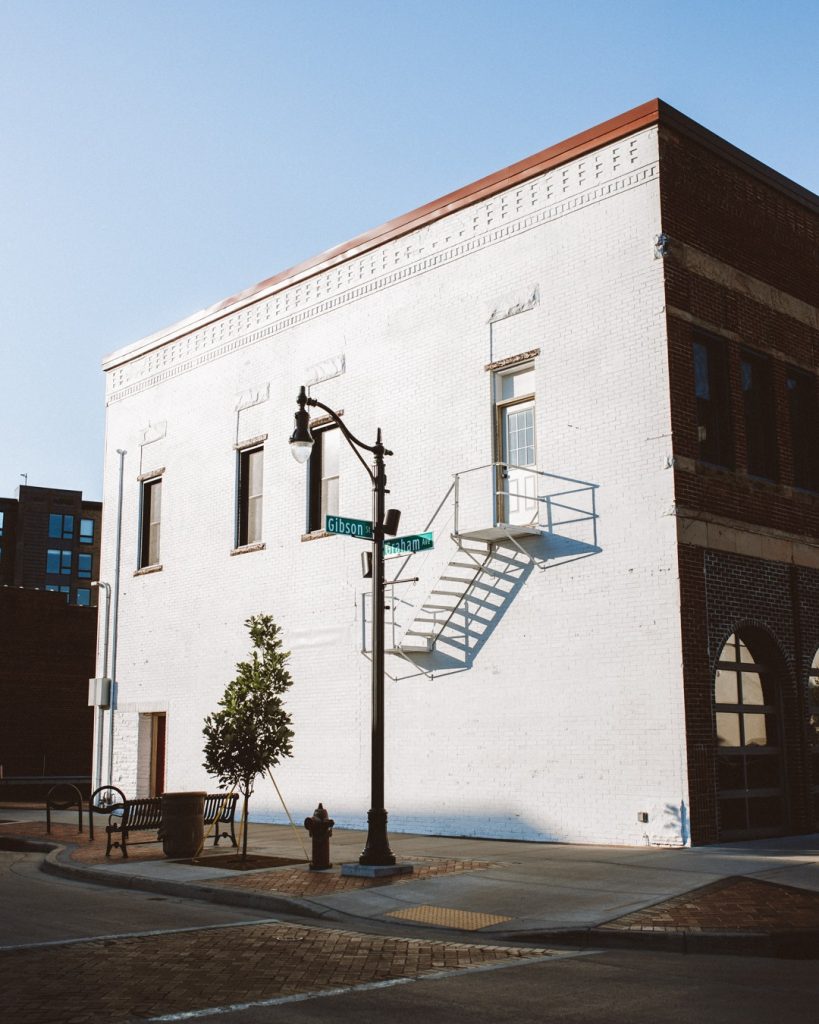 The deadline for submissions is June 18, 2021 at 4:00pm, with completion expected by August 31, 2021.

This mural project is dedicated to fostering visual art and community partnerships, while enhancing the downtown area and overall experience of both locals and visitors.

A competitive selection process shall allow all submissions equal opportunity to be selected. Artists from underrepresented communities are strongly encouraged to apply. The selected artist(s) will be eligible to participate in The Oxbow Hotel and The Lakely's Artist in Residence program, which provides lodging in one boutique hotel room for up to two weeks, along with a meal stipend.

Artists interested in participating must complete and adhere to the guidelines in an RFP, which can be found HERE.

This project is made possible in part through a DECI Downtown Enhancement Grant
---
2018 Artist – Molly Z – Chicago, IL
Once a year the Oxbow Hotel and community partners host a talented visual artist from outside of the Chippewa Valley to stay, eat, and play with us for as long as two weeks. They create a permanent, large-scale mural on a hand-picked downtown building, all while experiencing the best of our community. The artists not only leave their mark on the canvas of our downtown, but interact and collaborate with local artists, students, and the public through events like panel discussions, workshops, receptions, and more. These visiting artists enjoy our city, meet our people, and take their reflections back into their own cities where they can spread the word about our local vibe. Conversely, our local artists and other individuals who take part are left with fresh, outside perspectives and a newfound connection in art scenes around the country. And of course the community is left with some new high-profile public art.
2018 Artist (inaugural season):
Molly Z – Chicago, IL
www.mollyz.net
instagram.com/mollyz.art
Molly Z. has worked many years as a finely detailed digital illustrator, contracting with agencies, product manufacturers, and many different clients. She is always looking for a way to make beautiful art that affects lives daily. The idea of permanence and experience gives Molly Z.'s work a deeper purpose; to transform whole places, to fill spaces with thoughtful, inspiring, lasting works of art. She has created many large-scale works of art, public art for museums, schools, and businesses and has produced live art murals for major industry conferences and special events.
---
Mural Painting Dates
Sunday June 3 – Saturday June 16
Location
Intersection of Galloway and Farwell Streets, the side of the Eau Claire Printing Building, across the intersection from the Oxbow Hotel.
Approximately 3200 square feet.
Community Volunteers:
A handful of community volunteer painters will be accepted to help on some days of the process. If you're interested in being part of a large-scale downtown mural, go to our volunteer form.
---
EVENTS:
Creating Public Mural Art: Panel Discussion
Molly Z. will join a panel of local artists and art leaders in a discussion centered around creating large-scale murals in a community. Guests include Greg Johnson of Artisan Forge, artist and 200 Main Gallery operator Jo Burke, and local artist Jason Anhorn. Artists and enthusiasts of all kinds are invited to participate in the discussion.
Saturday, June 9th, 3-5pm
Location: The Oxbow Hotel Gallery
Community Mural Celebration
Join the team from Visit Eau Claire along with Tangled Up in Hue, who will be on-site doing live screen-printing of mural posters.
Molly Z. will be there to chat with community members and sign posters.
Be part of the celebration as the nearly-finished mural is on display.
Monday, June 11th, 5-7pm
Location: On-site at the Mural, intersection of Galloway and Farwell
---
2018 Funding & Program Partners:
---