Friday Oct. 14th, 2022 | 8-10pm
Born and (mostly) raised in Eau Claire, WI, Jerrika Mighelle (she/they) has been performing for the upper midwest region since her first gig with her sisters in their band QuinnElizabeth at the iconic House of Rock in 2004. As a solo artist, she has released two studio albums, Like the Sea and Brightest Star, and is currently working on releasing their third. Jerrika is a proud non-binary, queer human who has released their first single from this upcoming album called My Greatness which marks the first song where she sings about queer love. Aside from playing music, Jerrika hosted the popular Converge Radio show Tunes From the Womb where she featured tunes from women and gender diverse artists. Jerrika has also played the role of curator for L.E. Phillips Memorial Public Library's Sawdust City Sounds. This year, Jerrika had the honor of Co-Emceeing the Blue Ox Music Festival with Justin Bruhn of Pert Near Sandstone. You can find Jerrika's music streaming on all your favorite platforms and keep up with her busy schedule at www.jerrikamighelle.com.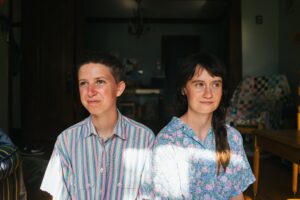 Bad Posture Club is a Minneapolis-based folk duo made up of Maren Day and Morgan Kavanagh. Their songwriting explores themes of home-places, landscapes, memory, family, and the strange relationship between human softness and the unyielding societal structures we both participate in, and push against. When reinterpreting traditional folk songs, they carve out space and agency for queer female voices. Drawing the listener in with intricate vocal harmony, Bad Posture Club creates intimacy and warmth, inviting togetherness in song.
Bad Posture Club will perform on The Lakely Stage at 8pm, followed by Jerrika Mighelle at 9pm. The Lakely opens for dinner and drinks at 5pm.