Tuesday May. 17th, 2022 | 8:30-11pm
Open Mic Night is coming to The Lakely Stage!
Join us each week on Tuesday nights as we feature Clear Water Comedy Open Mic Night with a plethora of entertainment and experiences, from musicians and comedians to improv and spoken word — anything goes, and you never know what (or who!) you might see or hear! Both established and emerging artists in the Chippewa Valley are encouraged to perform!
Each week, a different artist will host the evening, and lead off the program with 20-30 minutes of their own work. Following this performance, open mic begins. Whether it is music, comedy, sketch, live readings, poetry, acting, improv- all are welcome!
TUESDAY, MAY 17 OPEN MIC HOSTED BY:
Josh Verdeja, aka CLOUDS ON BLUE
Josh Verdeja, aka CLOUDS ON BLUE, is a rapper from the Midwest who specializes in blending old school hip-hop styles with new school rap. Often using lots of wordplay and abstract flows, CLOUDS ON BLUE is an up and coming artist offering a new twist on modern rap.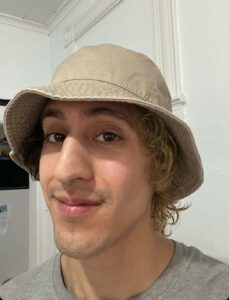 EVENT DETAILS:
Artists will perform on The Lakely Stage
Showtime is at 8:30 pm
Everyone is welcome, and the show is free to attend (but please come thirsty!)
PERFORMER DETAILS:
Artists will perform on The Lakely Stage
Sign-ups begin at 8:00 pm (must be present to sign up – no phone calls, no friend sign up, etc.)

Sign up is first come first serve- order is determined by the host. Typically musicians are first, and we end the evening with the stand up comedy performers.
Each musician gets two songs.
Each performer doing a spoken piece (whether it is comedy, magic, poetry, etc.) gets five minutes.

Showtime is at 8:30 pm
Whether this is your first live performance or you've been around the block a few times, we welcome you to share your gift.
Come hang with us! Everyone is welcome!