The Beer & Cheese Thing has been CANCELLED. 
In light of the awful forecast for tomorrow, the Beer & Cheese Thing on Saturday, October 5, has been cancelled. We'd hoped for a beautiful autumn day – or at least a dry one – but according to The National Weather Service, we have 100% chance of rain, wind gusts up to 30mph and temps in the low 50s – totally miserable weather for event-goers. As this event is 100% outdoors, we felt it was best to cancel and try again next year. We are incredibly disappointed, especially knowing how much everyone was looking forward to this.
We will be issuing full refunds for any tickets you purchased, so please watch for those to come through, though it will likely take a few business days for the credit to show on your account.
Here's the good news… Chef Eric still made chili, and we'll have it available this weekend as a special, so if you'd like to come in for a bowl, we'd love to have you! AND, if you bring in your original ticket receipt from when you bought your tickets, show us and we'll get you a BOGO FREE DRINK (craft cocktail, wine or beer, up to $9)!
Thank you so much for your understanding, and for supporting the events that we bring to the community!
—————–
The Oxbow Hotel and The Lakely are once again partnering up with local breweries and cheesemakers to highlight Wisconsin's perfect pair with a crafty and artisanal outdoor celebration – the 3rd Annual Beer & Cheese Thing!
Event-goers will be treated to unlimited (yes, UNLIMITED!) samples of high-quality local and regional craft beers and award-winning aged artisanal cheeses and take home a commemorative sampling glass. Chef Eric Mendoza will be serving his famous chili – both vegetarian and carnivore options available – with a chili bar featuring all the fixins' (extra charge applies)!  Pretzel necklaces will also be available for purchase for anyone who likes to have a little crunch along with their cheese!
NEW this year, The Beer & Cheese Thing will be accompanied by an Artisan Market, featuring artists and makers from the Chippewa Valley! You'll be able to meet the makers, explore awesome handmade items and get a head start on holiday gifting! Artist Market is FREE to attend to anyone and will be open from 12:00 p.m. – 6:00 p.m.
Attendees are also welcome to lounge around the patio fire slabs and enjoy the live music by European folk band, Klezmazel. Yard games including kubb, bean bags, and more will also be set up throughout the afternoon.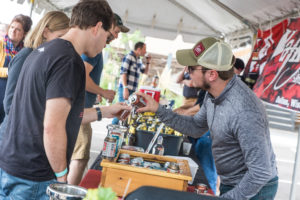 FEATURED BREWERIES:
Modicum Brewing (Eau Claire)
The Brewing Projekt (Eau Claire)
Lazy Monk Brewing (Eau Claire)
K Point Brewing (Eau Claire)
Bent Paddle Brewing (Duluth, MN)
Northwoods Brew Pub (Osseo, WI)
Zymurgy Brewing (Menomonie, WI)
Brewery Nonic (Menomonie, WI)
3 Sheeps Brewing Company (Sheboygan, WI)
Surly Brewing Company (Minneapolis, MN)
FEATURED CHEESEMAKERS:
Holland's Family Cheese (Marieke Gouda)
Carr Valley
Sartori
Roth Kase
Specialty Cheese Company
Nordic Creamery
La Clare Farms
Belgioioso
Cedar Grove
Saxon Creamery
Hook's
Blue Mont Dairy
Hidden Springs
$35 ADVANCE TICKETS // $45 AT THE DOOR
The Beer & Cheese Thing is a 21+ event.  Tickets are nonrefundable. This is a rain or shine event. No pets allowed. No smoking allowed.